---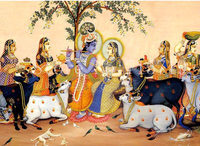 Krishna - DIY Diamond Painting - Cross Stitch Household Rhinestone 5D Diamond Embroidery Stickers (28x20 inch - 70x50cm )
Material: Resin
Canvas Packing Method: Rolled Up
Diamond Shape: Square
Use: Paintings
Frame: No
Form: Single
External Packaging: Paper Bag
Style: Southeast Asia
Pasting Area: Full
Number of Colors: 30-45
Pattern Type: Religion
Use: Household Essentials/Decoration
Set Type: Stickers For Home,Hotels,Offices,Meeting Rooms,Dining Room Decoration
Tools: Forceps or Crayon,Plastic Plates

Kind: Kits
Type: Canvas
Drill percentage: 100% full drill
Product Name: : Diamond Painting Cross Stitch
Mosaic Embroidery: Sewing Rhinestones
Is_customized: Yes
Theme: Religion Krishna
[Diy Diamond painting kit  contents:]
1. Enough resin diamonds.
2. Canvas fabric HD drawings (including drawings, color table)
3. Used to clip gum drill tweezers, plastic tray.
[DIY Diamond painting production steps:]
1. Open the box and check the diamond draw special tools.
2. View the resin diamond color, arranged in order of coding.
3. Uncover tape drawing above, you will see a lot of symbols corresponding to the color coding.
4. According to the corresponding color coded clamp the corresponding resin inlaid diamonds.
5. Suggested that one type of the resin diamond one set completed faster.
6. In order to create a perfect diamond painting, drawings put together in one place every row symbols do not have to stay stuck to diamonds.
7. To cut a good figure on the drawings, hold sorted array mounted to the plane of the material above.
8. Splices need flat against the neat, do not have cracks.
9. After a good fight, the rest of the gap at the glue corresponding symbols of diamonds.
10. To complete a good diamond drawing, put it in your selection of a suitable framework